Feature:
Lightweight Aluminum Design
RPNB shooting tripod is constructed from heavy-duty aluminum alloy. Black coating finish resists rust and corrosion.This rugged shooting stick is ready for most situations and terrains.
Removable 360º V Yoke Rest
Equipped with v yoke rest can be rotated to 360 degrees to target moving game animals at any angle with horizontally and vertically without changing your positions. Each RPNB shooting stick tripod fectures bubble level helps to judge the level and the accurate composition when shooting, button compass helps to guide the direction precisely, and non-marring soft rubber protection helps secure your weapon.
Adjustable-Height Stand Tripod
Humanized flip-locking system, lock and loose is more convenient and fast.Quick flip locks allow you to adjust the working height from 20.08" to 65.35″ in seconds. Tripod legs can be independently adjusted to meet multiple shooting positions from sitting, kneeling and standing.
Multifunction Mounting Plate
Can be used for camera, spotting scopes or other additional equipments with its universal ¼" thread bolt. Hunting tripod comes with allen wrenches make equipments installation more efficient.
Hook & Loop Strap
Attached hook & loop strap to secure three legs from over extended. Compact and portable to fit in the free nylon carrying bag, easy to store and transport.
View full details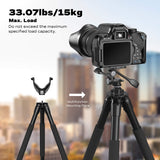 Product Specifications
Dimensions

Exterior Dimensions : 32.28″ x 4.33″ x 2.76″(H x W x D)
Load Capacity : Up to 33.07 lbs
Max. Tube Diameter : 23mm
Workig Height : 20.08" to 65.35″
Mounting Plate : Universal ¼" Thread Bolt
Floding Height : 32.28″ to 74.02″
360º V Yoke Rest : Bubble Level, Button compass