This RPNB Quick Access Biometric Pistol Safe With Electronic Lock has a new locking system that features a biometric fingerprint scanner, quick access Electronic Keypad with a choice of a three-digit to an six-digit combination that illuminates with a white light after the first button is activated. With audible feedback, you'll know the button has been pushed, and after the correct combination is completed, the spring-loaded door flips down to present your pistols.  With all solid steel construction, a 2-piece solid steel door and the battery located on the inside, this safe is insanely difficult to tamper with and extremely pry-resistant, preventing unauthorized access and leaving you feeling confident that your children will not be able to access your handguns.
Located on the bottom of the safe are two bolt-down holes to ensure a thief is unable just to pick up the safe and open it on their own time.
The safe is wholly lined with high-density foam on all sides to ensure no scratches on or inside your most prized handguns.
Feature:
The handgun safe is made of reinforced solid steel wall construction. The dual-layer steel housing and seamlessly welded pry-proof steel body for the ultimate prevention against break-ins.
For extra-fast 1 second access, a simple touch (of a predetermined fingerprint) is all it takes. This gun safe can hold up to 20 individual fingerprints.
You can set the silent mode. It is an essential function when you have a visitor at night or use the safe without disturbing others.
One-piece removable interior shelf included flexible use of space. The quick-access firearm is safe for two handguns and some magazines.
View full details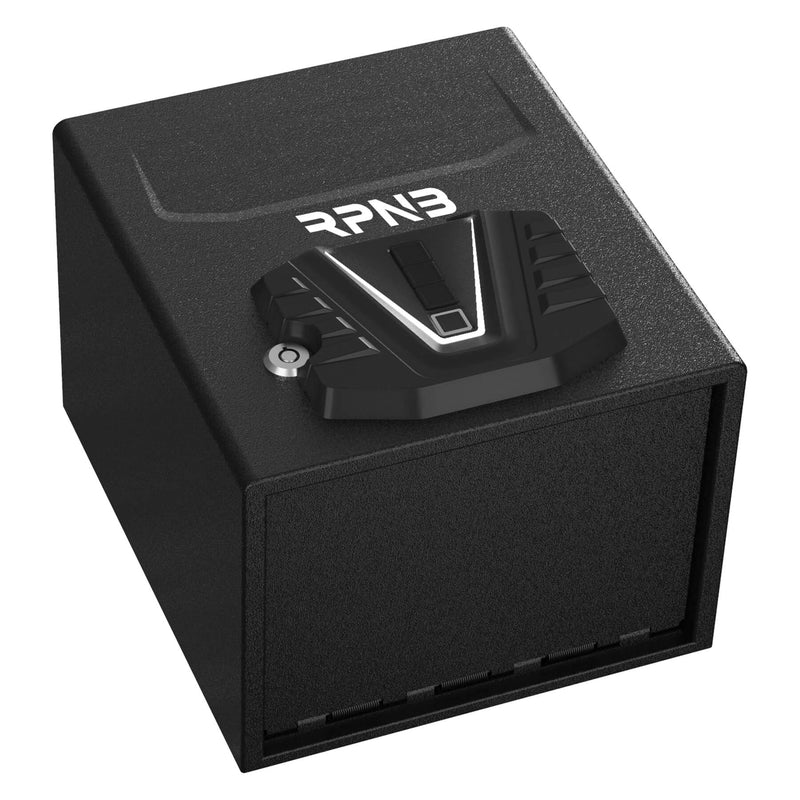 Product Specifications
Dimensions

Exterior Dimensions : 8.07″ x 9.84″ x 11.02″(H × W × D)
Interior Dimensions : 6.50″ x 9.45″ x 10.24″(H × W × D)
Requirements for Battery

4 NEW AA Alkaline Batteries (not included in the box)
Printable Template For Test Fiting
Available Fitment Guide for the RP2002. Simply print the template on an 8.5"×11" sheet of paper and place your valuables on the template to see if they fit. When printing do not scale to fit instead print at 100%.
Download
Know More About Products

More detail about the product.

Watch Video

Instructions

Instruction for the product.

Download