Feature
Heavy-Duty Fireproof Security Rifle Safe
Made of anti-theft solid steel, heavier than 220 lbs. 16mm heat-resistant fire boards, and 2-way large solid steel bolts.Complies with UL 72 Standard for fire resistance protection equipment for 40 minutes at 1200℉.
Adjustable and Flexible Space
Interior allows for quick space optimization of space with ultra-flexibility. Each 14-gun fireproof rifle safe with 2 fully adjustable shelves and multi levels liftable height.
Convenient Door Panel Organizer
Including 3 pistol holsters, a zippered pocket, and a pop-up zippered pocket that can store things like handguns, documents, knives and other small valuables on the door panel.
Multi-Method Entry
3 ways to open the biometric safe just according to your different needs. The fireproof fingerprint gun safe is designed with an external battery compartment for easy making battery replacement more convenient in an emergency.
Convenience Design and Full Coverage Soft Inner Protection
Come with the LED sensor light on the sensor mode will turn on automatically. Factory-Installed Electrical Power Outlet configured with 3 AC Outlets and 2 USB Ports.
View full details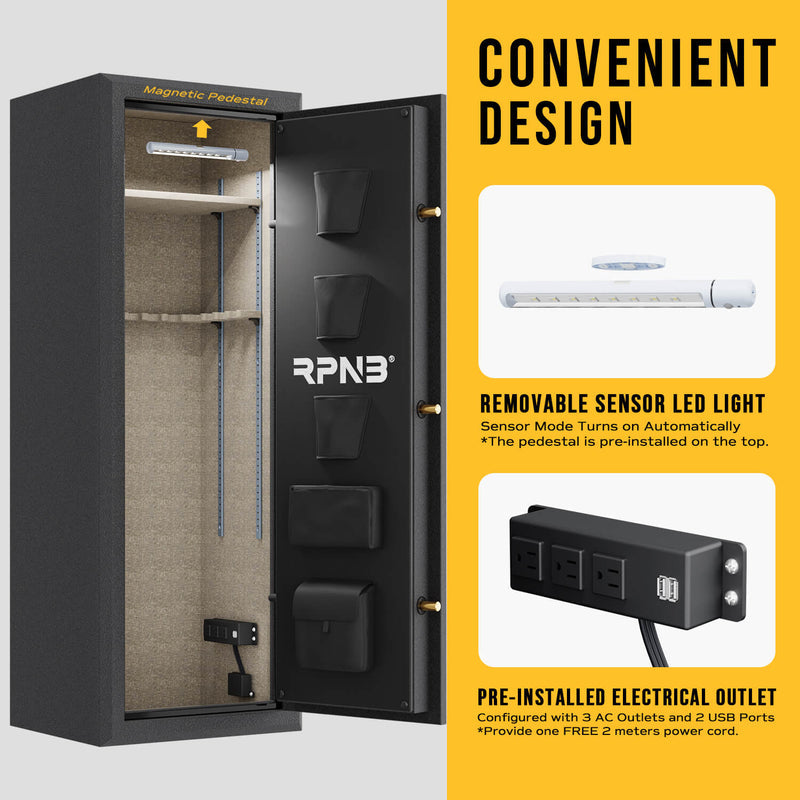 Product Specifications
Dimensions

Exterior Dimensions : 55.00"×20.00"×17.01" (H × W × D)
Interior Dimensions : 53.54"×18.31"×11.81" (H × W × D)
Delivery Options

Please read all information on the type of delivery options you have for your order. The delivery of large safes is a very sensitive operation, and we supply this information to ensure you receive the product you ordered in the best condition possible for your delivery circumstance.

Preparing for Freight Delivery
Customer Responsibilities
- A responsible adult, 18 years or older, must be present during delivery.
- Confine all house pets to a separate area from the delivery path.
- Merchandise will be left at the desired threshold† and a responsible neighbor or representative must accompany the delivery team and sign for the delivery.
- In inclement weather, please provide a clear path – no ice, snow, or debris – from the street to the appropriate threshold*.

Delivery Setup
Upon purchasing a RPNB® Fireproof Gun Safe, you will receive an order confirmation email that includes contact information for the shipping company that will complete the delivery of your product to your threshold*. It is essential to provide a phone number where you can be easily reached when you order your product as the shipping company will contact you directly to schedule a delivery date and time. See Important Delivery Considerations for information regarding delivery when an appointment cannot be scheduled.

Your Delivery Window
The shipping company will call you at the primary phone listed on your delivery order to confirm delivery time window.

Challenging Delivery Situations
Some delivery situations will necessarily incur additional charges. Please contact RPNB Safe prior to or immediately upon purchase if any of the conditions below exist where the product is to be delivered:
-Gravel driveway
-Gated community
-Low hanging wires
-Narrow access road
-Mountainside home
-Winding or steep driveway
-"Limited access" locations
-Heavily wooded area with low hanging tree limbs
-Wooden bridges or bridges with height and/or weight restrictions
-Location that's not easily accessed with a 53-foot semitrailer (18 wheeler).
-Driveway exceeding 50 feet from point of truck access to final delivery point

What are "limited access" locations?
Schools
Casinos
Daycares
Cemeteries
Court Houses
Construction Sites
Outdoor flea markets
Nuclear Power Plants
Mine Sites or Quarries
Camps, Carnivals, Fairs
Colleges and Universities
Medical/Urgent care sites
Parks, Farms, and Ranches
Hotels, Motels, and Resorts
Retirement / Nursing Homes
Military Bases / Installations
Individual / Mini Storage Units
Golf Courses and Country Clubs
Restaurants, Bars, and Night Clubs
Prisons / other correctional facilities
Airports or locations on airport property
Chautauquas, Churches, Mosques, Synagogues, Temples and Convents

Upon delivery, it is in your best interest to make note of the carton and product condition on the delivery paperwork. Delivery does not include installation – it is neither expressed nor implied that the delivery company will assist in the assembly and/or installation of any RPNB Safe product.

Delivery Team Responsibilities
Our delivery team will deliver and off-load the purchased RPNB Safe item to the desired threshold*.

For safety reasons, our delivery team cannot:
-Lift/hoist merchandise over banisters, or other obstructions, or through windows to complete the delivery of the product.
-Relocate any other items at said address.
-Perform carpentry, electrical, or plumbing work.
-Install the merchandise.

Important Delivery Considerations
The product will be returned if no delivery appointment is made withi the shipping company contacting you.The customer will be refunded the price of the returned product less the aforementioned built-in shipping fees.

Additional fees may be incurred if you fail to meet the delivery truck at the scheduled time. Such fees may include, but are not limited to:
Re-delivery charges
Storage fees
Service fees
Handling fees

*The threshold is defined as either the front door or in front of the garage for houses, and the first door of an apartment building.

To help us serve you in the best manner possible, simply follow these few guidelines:
1.Have a clean, clear pathway from the entrance of your home to the final location of the safe.
2.Remove or push to the side any furniture or obstacles that might interfere with passage of the safe, the equipment and our personnel through any room or hallway.
3.Remove all loose throw or area rugs that may lie in the pathway. This is a sure way to trip up both our equipment and our guys.
4.If we are putting the safe into a small contained area (like a closet), please make sure that all articles are removed from this site (or at least pushed completely to the side).
Know More About Products

More detail about the product.

Watch Video

Instructions

Instruction for the product.

Download